Find out the secrets of football in Chile, a country that is committed to its promising young players and aspires to establish itself at the top of the pyramid of South American football's elite.
Football fans who think that the Chilean national team's good times are over are very much mistaken. It is true that in the last ten years the successes achieved by the generation led by Claudio Bravo, Arturo Vidal and Alexis Sánchez have been more than notorious, but the new batch of Chilean footballers is ready to at least overshadow them. If not look at the Chilean football player nicknamed wonderkid – will a Chilean football player be a new Messi?
In fact, the Chilean league is one of the strongest competitions on the American continent thanks to the passion with which football is played there. Teams like Universidad de Chile, Colo Colo and Universidad Catolica are always in the running every season to make a splash and the performance of their respective squads is fed by the big European clubs… although in recent years also those of the MLS and Mexican League. The results of Chilean football are always excellent.
Chilean players in European Football Academies
However, to make the leap to the elite and prove that you can be on a par with the great Chilean legends, you have to prepare yourself. And a lot of it. That's why the passion for football in the country needs a lot of work in the field, especially when it comes to tactical and technical development. This is one of the main reasons why the presence of young Chileans in the International Football Academies is increasing, something that is more than beneficial for the future of this sport in the country.
This is the case of Felipe Moreno, a skilled winger who is part of the Soccer Inter-Action International Academy family in Spain. Felipe began this season his experience of training in European football with SIA and has now been able to have his first trial in a professional team after several months of training under the tutelage of the Tactical Periodisation methodology, which is used and supervised at Soccer Inter-Action by the prestigious Portuguese club FC Porto. The Chilean football association has already sent some players to Europe to improve their competitiveness.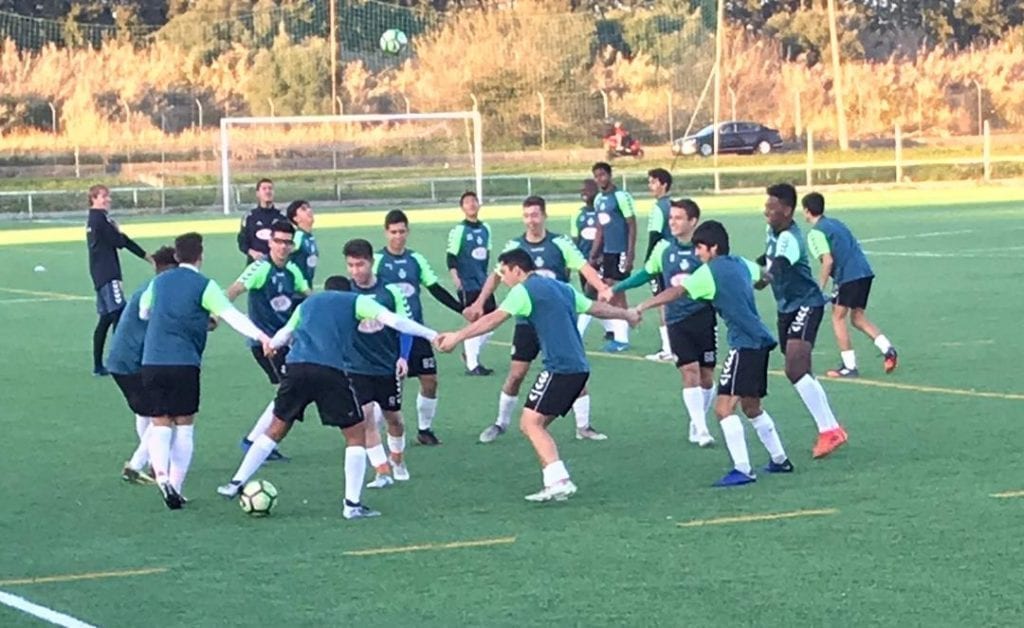 Chilean football player tries out for Portuguese team
In his case it was Vitoria Setubal, a Portuguese club that is very focused on developing young talent and whose first team is mainly drawn from its youth academy. "It has been my first experience beyond Chile and Dragon Force and the truth is that I have trained with players of a very high level, where there was a great demand because it is an important club in Portugal with great sports facilities. In addition, his U18 team stands out as one of the strongest in the country, so the level demanded is at the highest level. "There was a lot of competition among the players and you have to do your best in every training session because the coaches ask for intensity on the pitch". However, there is still a lot of room for improvement and this is just the beginning of a long battle for Felipe, as it is not easy to make a big impact on the coaches in just a few days, especially when the adaptation to the new club has to be very quick. We hope that this player will write the pages of Chilean football in the future.
If you want to know more about other academy players, have a look at this post.
With all this, it is important to point out that not only the International Soccer Academies enhance the football characteristics of the player, but there is also a strong emphasis on education, socialisation and being able to act as a professional even before becoming one. These pillars are basic in Soccer Inter-Action and the work of its psychologist, nutritionist, teacher and tutors is essential for the support and development of these promising players. In the end, the goal is to become professionals.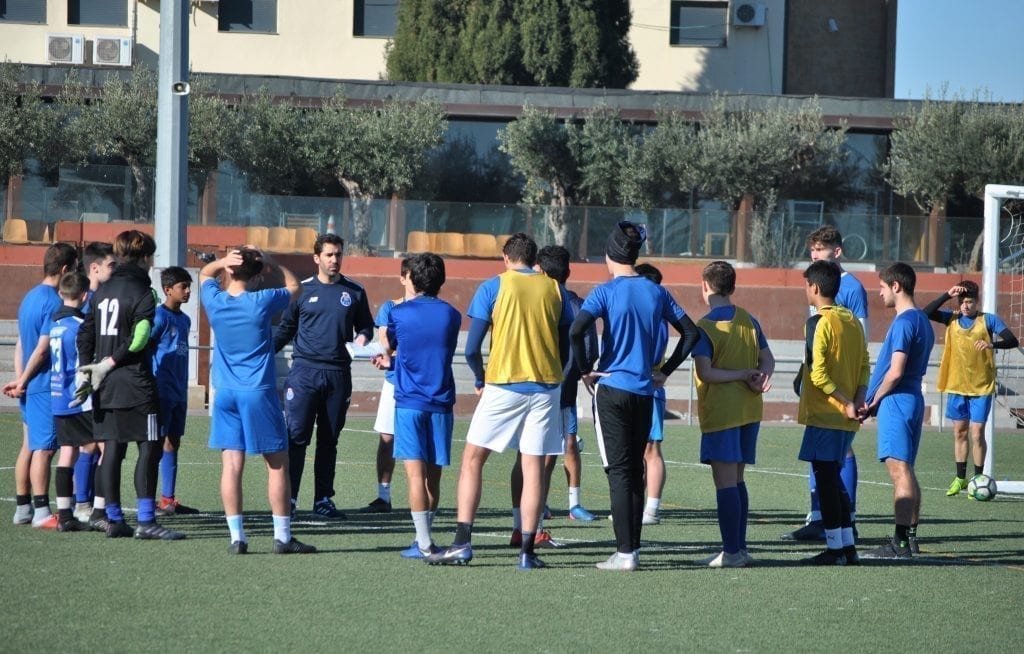 But how does the Chilean Primera División work?
It is not easy to be among the strongest competitions in South America and it is thanks to the good level of its teams. Don't you know them?
Club Universidad de Chile:
This is one of Chile's most successful clubs. Playing their home matches at the mythical Estadio Nacional, this important club will once again fight for the championship and repeat the successes of their years with Jorge Sampaoli in order to unseat one of their most direct rivals: Universidad Católica. To do so, they have players like Jean Beasejour, Matías Rodríguez, Johnny Herrera, Pablo Parra or Leandro Benegas. This Club's Chilean football matches are at the very least among the most interesting in the competition.
Colo-Colo:
It is not possible to talk about Universidad de Chile without mentioning Colo-Colo. Its full name is Club Social y Deportivo Colo-Colo and it is also based in Santiago, so given its status as a historic team, its clash against Universidad de Chile is one of the most eagerly awaited by fans of the country and of the Chilean football classics. The Superclásico is more than just a match and there have been occasions when it has decided a championship, so this season Colo-Colo will be looking to emerge victorious from the likes of Jorge Valdivia, Juan Manuel Insurralde, Carlos Carmona and Pablo Mouche.
Universidad Catolica:
They are reigning champions and one of the clubs that has grown the most over the years after their crises in the 70s. It currently has one of the strongest squads in the world thanks to reputed names such as Diego Buonanotte, Rubén Farfán, Sebastián Doldan and José Pedro Fuenzalida. They also boast promising young players such as defender Benjamin Kuscevic, who has a background in the Real Madrid youth academy. Many of their players are part of the Chilean national football team.
Union Espanola:
One of the historic clubs of Chilean football that is working hard to return to the top. This Santiago-based club has not lifted a trophy since 2013, something they are looking to change as soon as possible. To do so this season they have put together a squad that combines youth and experience, with names such as Mauro Caballero, Yulián Mejía and Jose Aja standing out.
O'Higgins:
This club has earned a reputation as one of the great Chilean football clubs. O'Higgins, whose base is in the city of Rancagua, is synonymous with modern football. It is a team that has great potential and that, thanks to its effort and hard work, has established itself in the elite. In fact, names such as Eduardo 'Toto' Berizzo have passed through its dugout. It is also worth remembering that it is a club that has managed to recover from the tragedy of 2013, when 13 of its fans lost their lives and another 27 were injured in a bus accident during a trip to face Huachipato. Despite starting the season with a defeat, O'Higgins will finish the championship in the top positions as they have a strong squad in which the names of Ramón Fernández, Maximiliano Salas, José Luis Muñoz, Fabrizio Ramírez or Paulo Magalhaes stand out.
In addition to these five major clubs, there are also 11 other clubs that make up the Chilean Primera Division and who are not ruling out the possibility of making a splash. In fact, Antofagasta, Union La Calera and Huachipato have given a very good impression on the first day of the league. The rest of the clubs are the historic Audax, Everton, Palestino, Cobresal, Iquique, Coquimbo Unido, Universidad de Concepción and Curicó Unido.
Beyond the Chilean Primera División
South American U20 Championship
In recent months, Chilean fans have been able to get over their football monkey with one of the most eagerly awaited events for scouts from the world's top clubs and player representatives: the South American U20 Championship. Known under the motto 'Youth of America' the XXIX edition is the fourth one to be held in Chile so far in history. All football players are trying to place their stars here. To host the ten participating teams, the organisation arranged three venues: the main one in the aforementioned city of Rancagua and its Estadio El Teniente (where O'Higgins plays as home ground) and the sub-venues in Talca at the Estadio 'Multicolor' Fiscal and Curicó at La Granja (home ground of Curicó Unido).
Thus, these three stadiums hosted the matches in their respective groups. The first phase of the South American U20 Championship is organised in two groups of five teams. Group A was made up of Chile, Brazil, Venezuela, Colombia and Bolivia, while Group B was made up of Argentina, Ecuador, Uruguay, Peru and Paraguay. The top three teams from each group advance to the Final Phase, which on this occasion featured Ecuador, Argentina, Venezuela, Brazil, Brazil, Uruguay and Colombia. The winner of this competition was finally Ecuador, thanks to three wins, one draw and only one defeat (10 points in total). Argentina, Uruguay and Colombia took second to fourth place, qualifying for the U20 World Cup and the 2019 Pan American Games.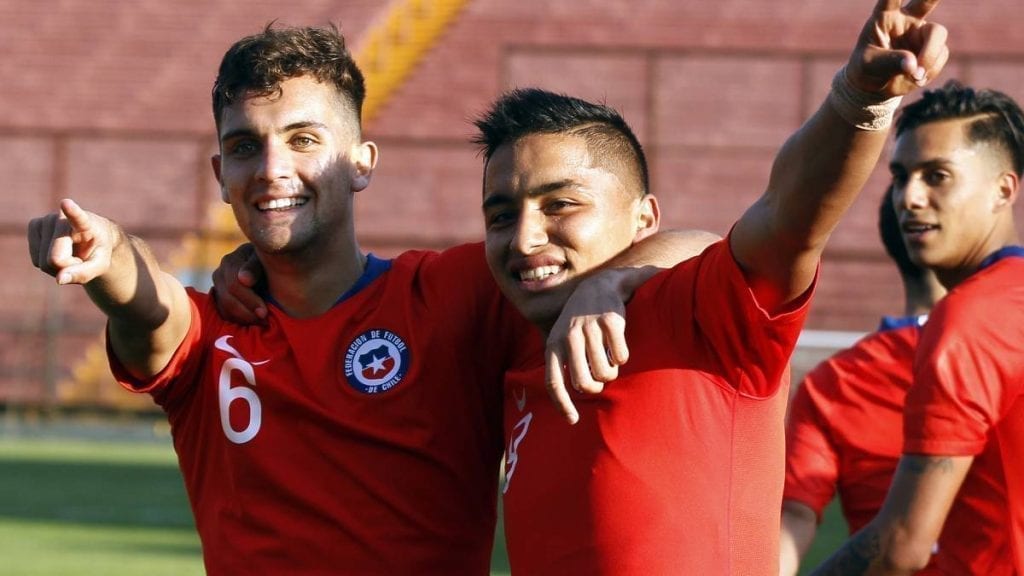 As for the La Roja team, it should be noted that it has not been their best participation, but it has been possible to see players whose potential is more than remarkable and who will give much to talk about in the medium-term future. Such is the case of Marcelo Allende and Ariel Uribe.
Chilean football players
Marcelo Allende
(7 April 1999) is a Chilean football player who has been on trial with English club Arsenal and is being closely followed by MLS (which has set its eyes on young Latin American talent to increase its competitive level). Allende is an attacking midfielder with very good ball handling, something he is demonstrating at Mexican club Necaxa, who signed him from Chile's Deportes Santa Cruz.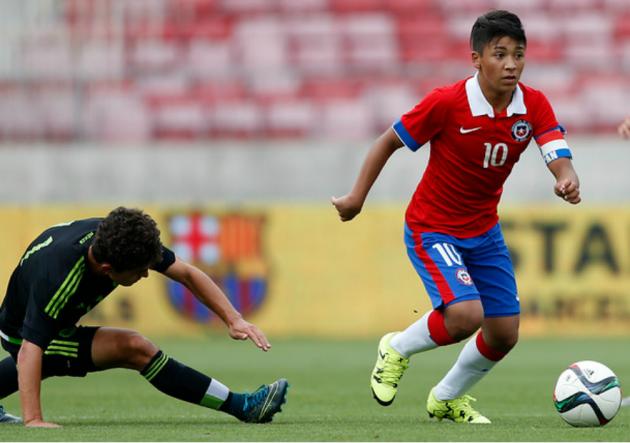 Ariel Uribe
(14 February 1999) is the other pearl of this Chile U20 squad. He is a left winger who, like Marcelo Allende, also plays in Mexican football. He has made his place in the Monarcas Morelia squad thanks to his audacity on the ball. He is a player with a great capacity for association and a lot of overflow, characteristics very different from those of his relative Mario Lepe, a historic player of Universidad Catolica.
Following in the footsteps of Chilean football legends and scorers
Chile is a cradle of great footballers. There is not a great event in this sport in which a player from this country has not shone, whether at club level or wearing the jersey of La Roja. How? Don't you know them?
Elías Figueroa:
Considered the greatest footballer in Chilean history, 'Don Elías' (25 October 1946) was a collector of titles, excelling at club level with Peñarol and Internacional de Porto Alegre. His career in Chile was also successful, winning two league championships with Palestino and another with Colo-Colo. According to the IFFHS he is the best South American defender in history and is part of the historic South American national team.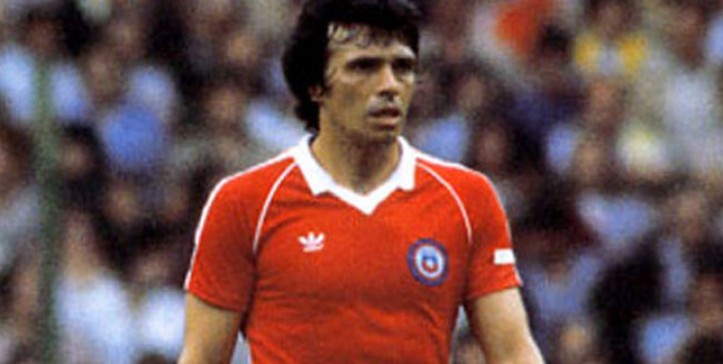 Carlos Caszely:
Goals, goals and more goals is what ensured you had Carlos Caszely in your team. This short striker (5 July 1950) left his mark on all the teams he played for thanks to his finishing, dribbling and winning character. At Colo-Colo he is a legend and in Europe he is fondly remembered for his performances at Levante and Espanyol, a club that considers him one of the best players in its history. In fact, he has the curiosity of having a door dedicated to him in the stadium of the Perico team.
Roberto Rojas and Sergio Livingstone:
If you have to talk about great Chilean goalkeepers, you have to talk about Livingstone and Rojas. Sergio Livingstone (26 March 1920) is considered one of the best Chilean goalkeepers in history thanks to his successes with Universidad Catolica and La Roja. However, alongside 'El Sapito' (as he was known due to his extraordinary leap), the name of Roberto Rojas also appears in the memory of Chilean legends. The 'Condor' (8 August 1957) is known worldwide for his character and high level under the sticks. Rojas is undoubtedly the best goalkeeper in the history of Colo-Colo and, along with Livingstone and Claudio Bravo, the most outstanding goalkeeper in the national team. While defending the colours of La Roja he was involved in an unfortunate incident that every Chilean fan recognises as 'the Maracanazo: the biggest scandal in the history of Chilean football'.
Carlos Reinoso:
Carlos Reinoso (7 March 1945) is synonymous with Club América. The organisational midfielder is a legend at the prestigious Mexican club. In fact, Reinoso is considered by Mexican fans to be the best Chilean player of all time due to his success and image in that country. With Club America he won the CONCACAF Champions Cup, the Interamerican Cup, the Copa Mexico and twice the La Liga.24 years old
Iván Zamorano:
Few heading strikers in history can claim to be better than Iván Luis Zamorano Zamora. The striker (18 January 1967) is a world figure thanks to his eye for goal. Known as 'Bam-Bam', Zamorano has scored goals wherever he has played, excelling in Europe for clubs such as Sevilla, Real Madrid and Inter Milan. It is also worth noting that along with Elías Figueroa, he is one of two Chilean footballers to appear on FIFA's exclusive list of the 100 greatest living footballers of the 20th century. He retired in 2003 at Colo-Colo with 223 official goals to his name since he made his debut in 1985 with Cobresal.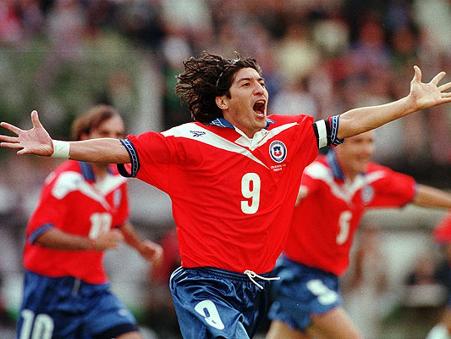 Marcelo Salas:
His nickname says it all: El Matador. Marcelo Salas (24 December 1974) is considered one of the best strikers in the world at the end of the 1990s and the beginning of the new century thanks to his extraordinary eye for goal. A real finisher, Salas became a legend at River Plate before making the leap to Europe with Lazio, where he shared a dressing room with players of the calibre of Nevded, Nesta, Vieri and Stankovic. Marcelo Salas was on the verge of signing for Real Madrid in 2001, but finally decided to stay in Serie A by joining Juventus, who paid 25 million euros for him. Salas retired in 2008 with the club of his love: Universidad de Chile.
The Golden Generation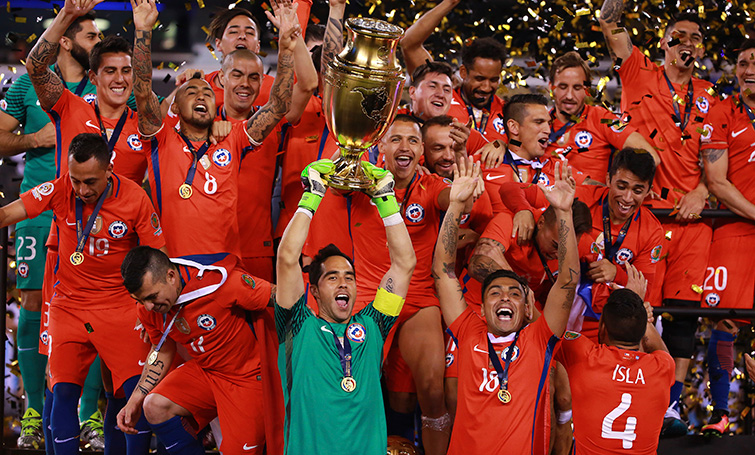 These figures were the mirror in which the best generation of footballers that Chile has ever had looked at themselves. In recent years, La Roja's successes have been fascinating, from winning two consecutive Copa América (one of them the Centenario) to reaching the group stage of the World Cups in South Africa and Brazil. It was precisely in Brazil that Chile came closest to pulling off the greatest upset in the history of the World Cup, as they faced the 'Verde-amarela' in the Round of 16 and were eliminated on penalties after having the hosts on the ropes for a long time. In this team, both under Bielsa and Sampaoli, there were players of the stature of:
Claudio Bravo:
The great captain. A world-renowned goalkeeper who led La Roja with spectacular saves, especially in penalty shoot-outs, where he is a real specialist. Due to his good handling of the ball with his feet, Claudio Bravo has excelled under Pep Guardiola at clubs such as FC Barcelona and Manchester City, his current team.
Alexis Sánchez:
La Roja's attacking reference point. Ability to sacrifice, overflow, goal… top conditions at the service of the team. He was one of the stars of the World Cup in Brazil and performed at a very high level. He has worn the colours of FC Barcelona, Arsenal and now Manchester United.
Arturo Vidal:
The soul of the national team. A leader on the pitch thanks to his warrior attitude. Lung in midfield with a great ability to cut and to get from the second line to the attack. Arturo Vidal, currently with FC Barcelona, has had spells with Bayer Leverkusen, Juventus and Bayern Munich, and is also a target for the big clubs in the English Premier League (he was very close to signing for Chelsea last season).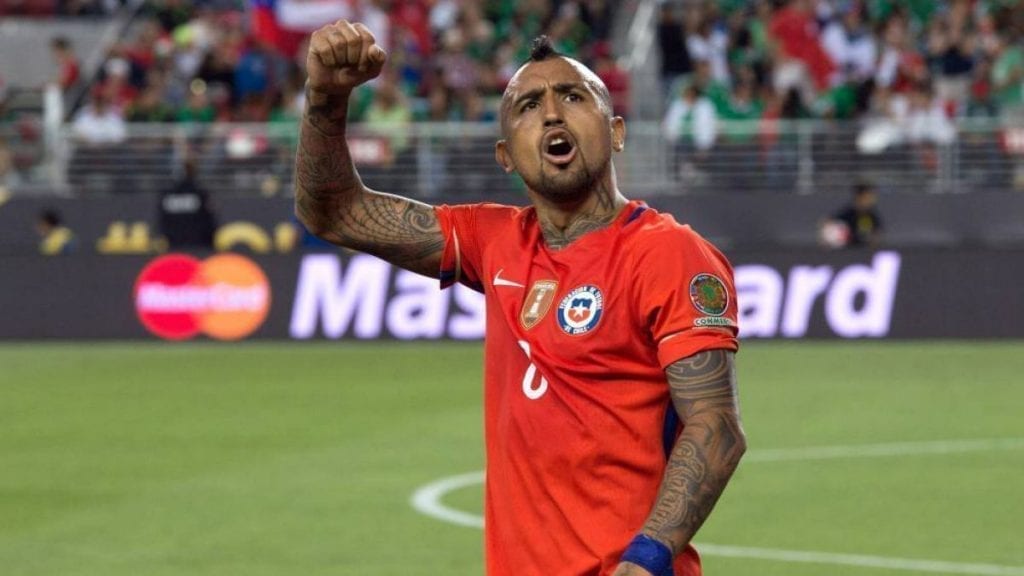 David Pizarro:
It is true that this midfielder was not at the Brazil showpiece, but he has been the compass of this generation (he has defended La Roja for 17 years). A leader on and off the pitch with great vision and finishing, characteristics that he exploited during his time in Italy's Serie A, where he played for clubs such as Inter, Fiorentina and AS Roma. In the latter he became one of the captains of the team alongside the legend Francesco Totti.
Eduardo Vargas:
Dynamite, electricity. This is what this speedy attacker was known for, and he had a real love affair with La Roja, especially in the two Copa America's he played in, scoring 10 goals in total. A promising youngster at Universidad de Chile, he soon signed for Napoli and went on to become a football globetrotter. He has played for Brazilian club Gremio, Valencia CF, German side Hoffenheim and English side Tottenham. He currently plays in the Mexican league with Tigres, where he forms a fearsome duo alongside French international Gignac.
Gary Medel:
The 'Pitbull' is one of those players that no opponent wants to play against. A versatile defensive midfielder and central defender whose forte is intensity. A very aggressive cutback player, he became one of Sampaoli's defensive chiefs at the World Cup in Brazil. In fact, the great match he played against Spain is remembered from that Cup. His good work on the pitch has helped him to play for important clubs such as Sevilla, Inter Milan and Besiktas.

Jorge Valdivia:
El Mago. A midfielder with a knack for carrying the ball around his boot and wowing the fans with his final passes. Valdivia is a legend at Brazilian club Palmeiras and in Europe, although he played for Rayo Vallecano, we have been left with the thorn in our side of seeing him succeed, as in his prime he had the qualities to be a big star on the old continent.
How is football organised in Chile?
As a summary, we want you to understand how the football championship is organised in Chile.
Being one of the oldest tournaments in Latin America since 1903, it was re-established in 1933 and renamed the Chilean first division, Campeonato AFP PlanVital. It is organised by the Asociación Nacional de Fútbol Profesional de Chile, which belongs to the Federación de Fútbol de Chile (Chilean Football Federation).
The Chilean First Division is played by 16 football teams in a single tournament with promotion and relegation to the Chilean Primera B. The tournament is played in two rounds.
The tournament is played in two rounds (long tournament) all against all.
At the end of the competition the winning team is crowned "National Champion of the First Division of Chilean Professional Football".
The 1st, 2nd and 3rd place will have access to play in the Copa Libertadores.
The 4th, 5th, 6th and 7th place will have access to play in the Copa Sudamericana.
At the end of the season, the clubs in 15th and 16th place in the table will be relegated to the Primera B Chilean League. Promotions and relegations shall take effect from the season following the one in which they occurred.
Participating teams First Division
Team
Town
First
seasons
Seasons
totals
 
 
Position 2018
Títles
Age
Audax Italiano

Santiago

1933

74

 
 

10°

4

108 años

Cobresal

El Salvador

1980

28

 
 

3° en 1°B

1

39 años

Colo Colo

Santiago

1933

88

 
 

5°

32

93 años

Coquimbo Unido

Coquimbo

1959

24

 
 

Campeón en 1°B

 

60 años

Curicó Unido

Curicó

2009

4

 
 

12°

 

45 años

Antofagasta

Antofagasta

1969

30

 
 

4°

 

52 años

Iquique

Iquique

1980

25

 
 

14°

 

40 años

Everton

Viña del Mar

1944

63

 
 

11°

4

109 años

Huachipato

Talcahuano

1967

47

 
 

9°

2

71 años

O'Higgins

Rancagua

1955

56

 
 

8°

1

63 años

Palestino

Santiago

1953

65

 
 

13°

2

98 años

Unión Española

Santiago

1933

85

 
 

7°

7

121 años

Unión La Calera

La Calera

1962

21

 
 

6°

 

65 años

Universidad Católica

Santiago

1939

79

 
 

Campeón

13

81 años

Universidad de Chile

Santiago

1938

82

 
 

3°

18

91 años

Universidad de Concepción

Concepción

2003

16

 
 

2°

 

24 años
If you want to know what football is like in Mexico If you want to know what football is like in Chile
If you want to know what football is like in Korea If you want to know what football is like in Japan
If you want to know what football is like in Brazil If you want to know what football is like in the USA.
If you want to know what football is like in Spain If you want to know what football is like in Australia
If you want to know what football in Gabon is like If you want to know what football is like in Australia
If you want to know what football is like in Singapore If you want to know what football is like in …….