---
Brazil awaits its new superstar
He knows one of the most watched leagues by the scouts of the big clubs due to the large number of young talented footballers that it exports. Proof of this is the test to Pedro Santos player of our football school in Valencia with FC Porto in Portugal….

Brazil is synonymous with football. Pelé, Ronaldo, Sócrates, Ronaldinho, Garrincha, Romario, Zico, Roberto Carlos, Bebeto and Cafú are some of the names that come to mind when you hear Brazil. The Latin American country is by its own merit one of the great powers, dominator of World Cups and generator of footballers who are already part of the golden history of football. That is why the footballers' representatives of the most important players' agencies always have young Brazilian promises in their portfolios. They want to continue to make history with the young stars that are coming out of the youth academies of Brazilian clubs day after day.
What is the current situation in Brazilian football?
In recent years, however, the Canarinha have not been able to find the key to winning championships and have allowed countries from the Old Continent to overshadow them. Spain, France, Germany and England have risen from the ashes to take the footballing baton, so there is no doubt that Brazil urgently needs a crack. Brazilian football cannot be left behind.
Who will be the new Neymar?
The Paris Saint-Germain striker is one of the most important figures on the world stage, but not since his breakthrough with Santos has Brazil seen someone capable of surprising so much. The former FC Barcelona player, transferred to the Parisian side for more than 220 million euros – the most expensive signing in the history of football – is a clear representative of the Brazilian player profile that has given so much to the growth of the sport: superb ball control and a ferocious goalscoring instinct. Brazil is magic and every elite club dreams of having a player who makes the difference in that special way, and if not, just ask Djalminha's Súper Dépor, Kaká's Milan or Ronaldinho's football madness at FC Barcelona.

What do all these players share besides being geniuses on the ball?
Their explosion in the Brasileirao, the Brazilian Serie A championship. This league is undoubtedly one of the most analysed and watched competitions at club level by all the major powers in the sport. Acquiring a young Brazilian diamond is what all European clubs aspire to, and there are more and more signings of Brazilian players who have not even reached their twenties. The most recent cases have been the signings of Vinícius Júnior and Rodygo Goes by Real Madrid, for whom they have paid almost 100 million in total for players who have not yet matured or completed their training.
And it is precisely this situation that is most detrimental to the Brazilian league, which cannot cope with the economic might of the clubs in Europe and cannot, on a sporting level, bring out the full potential of its young talents. However, in every prestigious club competition in South America, a Brazilian team always finishes in the final rounds, and that means they still have a lot of fight left in them, especially when football becomes the focus of Brazilian attention every weekend.

Get to know the Brazilian Seria A
A competition made up of names like Palmeiras, Flamengo, Santos, Sao Paulo, Corinthians, Vasco de Gama and Cruzeiro gives you goosebumps. Historic and legendary teams fighting for the national title. The show is on.

Cotinthians want to feel again what they felt in 2017 when they won the Brasileiro and they want to do it in the best possible way, with powerful attacking football. With morale high after winning the Sao Paulo derby by one-nil, the team coached by Fábio Carille is going through a sweet moment thanks to the level that their best players are giving. Vagner Love, Pedrinho, Fagner and international goalkeeper Cássio are the backbone of a team that with the return of Carille to the bench – he was the coach who led them to the title in 2017 – has regained the spark lost last season.
For their part, Sao Paulo are the team who had to taste the bitter taste of defeat in the Paulista city derby. However, Sao Paulo is synonymous with football history, a giant club that still has a lot to say in the sport, especially when it is the Brazilian club that has won the most international tournaments, including three Libertadores Cups and two Intercontinental Cups. With a winner like Cuca on the bench, Sao Paulo has a squad in which one name stands out from the rest: Alexandre Pato, a striker who was one of the great promises of football and, had it not been for his constant muscular injuries, would have written his name in the golden pages of Brazilian football.
Beyond these teams, it is also worth highlighting the excellent work carried out in recent months by clubs such as Atlético Mineiro, Bahía and Internacional de Porto Alegre, whose excellent planning for the season is already bearing its first fruits, as they are positioned in the important part of the standings.
In search of a sixth World Cup
Unfortunately for the Brazilians, a lot has happened since 2002, when Cafu lifted the World Cup in the exotic Japanese city of Yokohama, the fifth trophy won by the most successful national team in history: Brazil. The Canarinha are eager to win their sixth title as soon as possible and are working hard to make it happen at the next edition, especially to forget their recent performances, as neither in South Africa, nor in Russia, nor in Brazil itself did they shine with their own light. There remains the seven-two defeat by Germany in the 2014 semi-final, possibly the greatest humiliation in the history of this national team.

The national team led by Tite has built a solid unit in which the team is more important than individuals. Even so, the magic is present, although to a lesser extent than in other generations, something that the green and yellow fans hope will not take its toll at the Copa America Brazil 2019, which kicks off on 14 June and ends on 7 July. For this all-important tournament, where Brazil can only hope to emerge victorious if it is not to be another summer flop, Tite has chosen the following 23 players: goalkeepers Alisson (Liverpool), Ederson (Manchester City) and Cássio (Cortinhians); defenders Alex Sandro (Juventus), Filipe Luis (Atlético de Madrid), Thiago Silva (PSG), Dani Alves (PSG), Marquinhos (PSG), Miranda (Inter Milan), Fagner (Corinthians) and Miliato (Porto); midfielders Casemiro (Real Madrid), Fernandinho (Manchester City), Arthur (Barcelona), Allan (Napoli), Lucas Paqueta (Milan), Everton (Gremio) and Coutinho (Barcelona); and attackers Davd Neres (Ajax), Neymar (PSG), Richarlison (Everton), Gabriel Jesus (Manchester City) and Roberto Firmino (Liverpool).
If you want to know what football is like in other countries;
Pedro Santos is making progress in his training and career as an elite footballer. The speedy Brazilian winger of FC Porto Dragon Force Valencia-Enguera has lived his second experience in Porto with the mission of being seen live again by the technicians and scouts of the prestigious Portuguese club. In their player testing programme for 2019-2020. Club that has received with open arms a Pedro who from the first training showed his good work with the ball and his best virtues as a footballer: speed, great ability to dribble and an enviable nose for goal.

In this way, this young Brazilian U16 talent has become a benchmark for the Official Football School of FC Porto in Spain and also for the Soccer Inter-Action International Football Academy, which does not rest when it comes to seeking trials for its stars in Europe's elite clubs. In addition, the methodology implemented at SIA Center allows our young talents to adapt very easily to the demands of the most powerful clubs in the world of football. That is why we hope that the club that is looking for football players for trials will count on our players.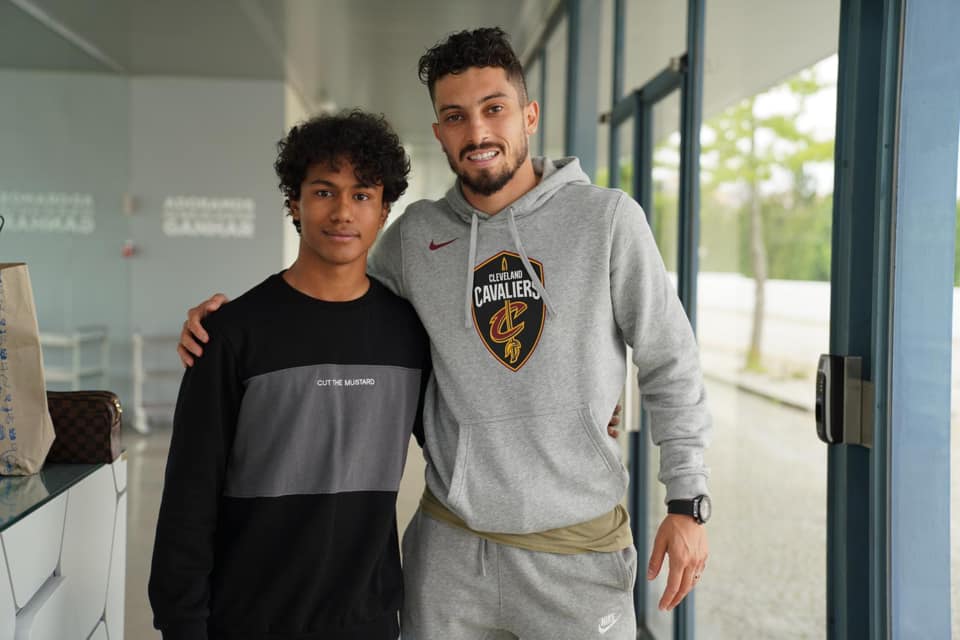 Beyond Pedro's trials with FC Porto, the Brazilian was also able to enjoy all the services of the Portuguese team's sports facilities, where he was able to share time and space with the players of the first team, from compatriot Alex Telles to Spanish midfielder Óliver Torres.
On the other hand, and once the season is over, the Official FC Porto Dragon Force Valencia-Enguera School is already preparing the project for the next season, which will be another step forward in its growth as a club, as the objectives are being achieved and FC Porto's commitment to attracting talent from the Valencian Community is starting to bear fruit.

Which Brazilian players play for FC Porto?
Vaná Alves (Goalkeeper) 25/04/1991 (28)
Fabiano (Goalkeeper) 29/02/1988 (31)
Eder Militao (Central Defender) 18/01/1998 (21)
Felipe (Central Defender) 16/05/1989 (30)
Pepe (Central Defender) 26/02/1983 (36)
Alex Tellez (Left Back) 15/12/1992 (26)
Otávio (Defensive Midfielder) 09/02/1995 (24)
Fernando (Mid-Front) 08/01/1993 (26)
Tiquinho Soares (Centre Forward) 17/01/1991 (28)
If you want to know what football is like in Mexico If you want to know what football is like in Chile
If you want to know what football is like in Korea If you want to know what football is like in Japan
If you want to know what football is like in Brazil If you want to know what football is like in the USA.
If you want to know what football is like in Spain If you want to know what football is like in Australia
If you want to know what football in Gabon is like If you want to know what football is like in Australia
If you want to know what football is like in Singapore If you want to know what football is like in …….